Talia Massaroni underscores the idea that "timeless and classic" jewelry doesn't have to break the bank.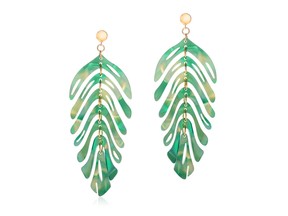 Reviews and recommendations are unbiased and products are independently selected. Postmedia may earn an affiliate commission from purchases made through links on this page.
Article content
Talia Massaroni underscores the idea that "timeless and classic" jewelry doesn't have to break the bank.
Article content
The founder of the Canadian brand Olaeda offers approachable, semi-precious jewelry options ranging from earrings to necklaces to anklets, made from primarily 14-karat gold filled or sterling silver. The creations, Massaroni says, are "everyday wearable pieces."
Article content
We caught up with Massaroni to learn more.
Q. For those who aren't familiar, what is Olaeda?
A. Olaeda is a Toronto-based jewelry brand that offers a thoughtfully curated and handmade collection of classic and everyday wearable pieces. Our online shop and Toronto showroom retails a selection of everyday, demi-fine jewelry, with a focus on authentic 14-karat gold filled , sterling silver and semi-precious jewelry.
Q. Is there a story behind the name?
Article content
A. Olaeda — pronounced Oh•lay•duh — comes from the root word "Olaedo," which is a feminine name meaning "gold" and "precious" from the Igbo people in Nigeria. The addition of the "A" on the end adds an extra touch of femininity and elevation. Coming from the root meaning of "gold," it ties directly to our product, while "precious" describes an object of great value; not to be wasted or treated carelessly.
Q. What makes the brand unique?
A. The variety of authentic 14-karat gold filled pieces that we offer is something that makes our brand unique. Even though there are many limitations to working with this metal; we are determined to push through them all! Since gold filled is a layered product, it's not made the same way as a sterling silver or solid gold; the process is very different.
Article content
Q. Who is the target customer?
A. Our target customer is someone who loves fashion and accessories and someone who loves to layer and stack, and to have some fun with their jewelry. Our shoppers are primarily females who embrace timeless and classic designs, and love pieces that are perfect to wear everyday.
Q. What more can you share about the charitable aspect of the brand?
A. We're very excited to have partnered with The Period Purse, a Toronto-based charity that was founded by Jana Girdauskas. This organization strives to achieve menstrual equity by providing marginalized menstruators with access to free menstrual products, and to reduce the stigma surrounding periods through public education and advocacy. It's very important for us as a brand to give back to our community, which is why for every purchase at Olaeda, a donation is made to this fabulous organization.
Article content
Q. Is there a 'hero' design in the line?
A. There are quite a few actually. In the necklace category, our Heavy Paperclip Chain and Fancy Herringbone are both hero designs. They are very classic chains that look fabulous solo, or layered up. The great thing too, is that they're available in three different lengths. Our European Hoops are another hero design, as well as a bestseller. They are the perfect everyday hoop, with just the right thickness and width. They are such a classic piece and are available in 14-karat gold filled, sterling silver and rose gold filled.
Q. What is the price range for your pieces?
A. Prices range anywhere from $15 for our universal necklace extenders to just over $200 for some of our solid gold pieces. Whether you're looking to treat yourself to something nice or purchase a gift for a loved one; our wide price range means there is something for everyone.
Q. And lastly, where can people check them out?
A. You can shop online at shopolaeda.com or at our Toronto studio, located at 2814 Dufferin St.
Aharris@postmedia.com