Fashion week ended Wednesday night, and with it, a set of young independent designers of America made their presence known.

New York Fashion Week officially began in full gear last Friday with Fendi's celebration of everything pre-pandemic in Hammerstein Ballroom: exhuming ooouuus and aahs of attendees' appraisal of glamour and everything luxurious.
At the same time, blocks away, burgeoning independent designers challenged notions of luxury.
Tia Adeola
In collaboration with Nike's two-day 'Beyond the Court' experience at The Shed at Hudson Yards, Nigerian-born and New School-alum designer Tia Adeola deployed a statuesque shade of America. Adeola's show consisted of a theatrical attempt at a modern Harlem Renaissance .
"I was a drama in high school and mirrored [Mugler's] love for film noir," Adeola said in her show notes. Manford Theirry Mugler, a French designer who passed away last January, was an expert in theatrics and Adeola remains a devoted student of his mastery.
From Adeola's opening ruffled look, it's apparent, however, that this collection wasn't a homage. Where Mugler exposed bare breasts, Adeola layered with crystals. Where Mugler exposed bare buttocks, Adeola alluded with sheer. Where Mugler ostracized male models as chiseled underwear boytoys, Adeola romanticized them with sheer and ruffled fashion. Adeola introduced menswear in her collection for the first time, following a full womenswear showing in February.
At 24 years old, Adeola presented a safe feminized luxury primarily for her loyal customers.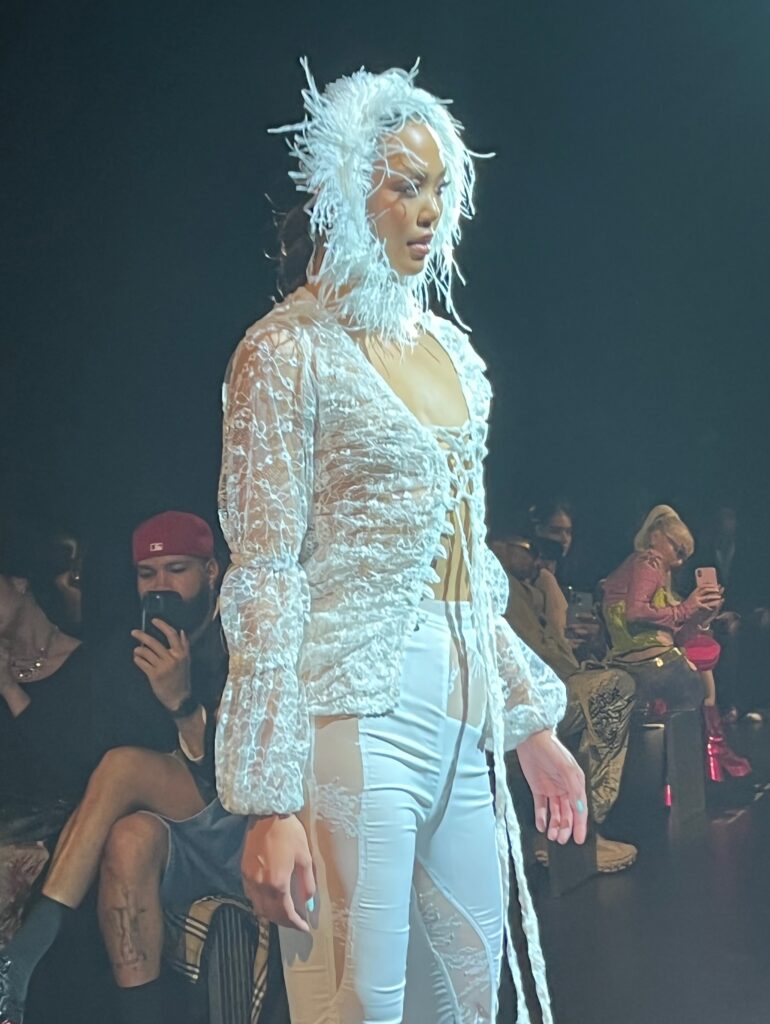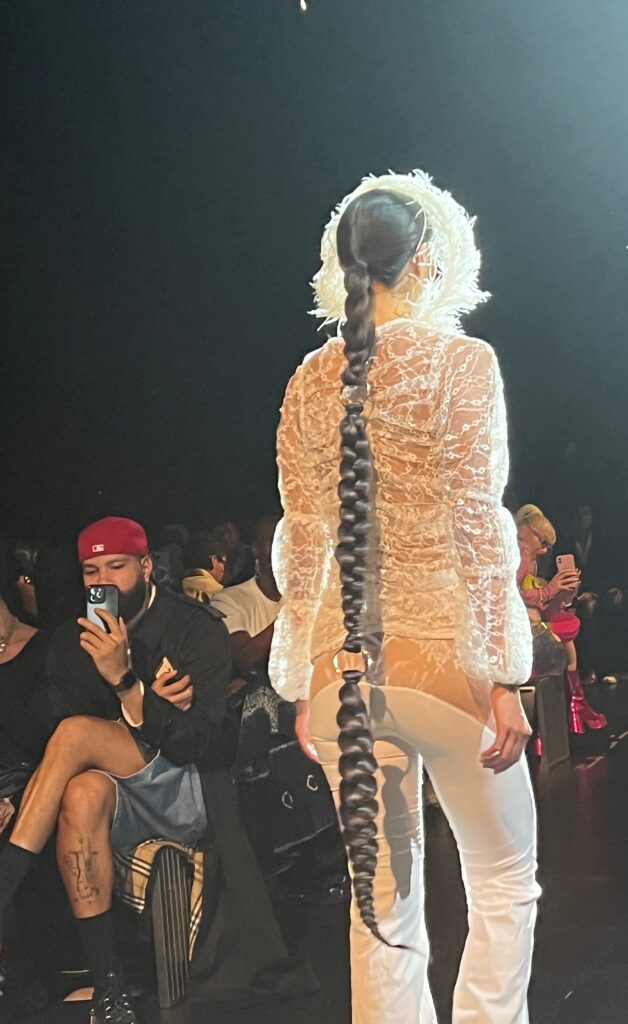 Barragán
Literal trash scattered the ground Sunday several blocks away from Eugene Lang's building. Mexican-American designer Victor Barragán returned to Fashion Week, after a three-year break, with funding from NYFW's Small Business Grant from Empire State Development. Barragán, in the most surprising showing , presented a mix of business casual uniforms, money-plastered short mini-dresses and camouflage trousers. However, this wasn't the highlight. It was the bodaciousness of having a standing room-only audience glimpse at walls of graffitied cartoons, while focusing on a procession of all white models (some were Latin and passing, of course) walk through trash with scotch taped footwear, botched botox lips, and a New York Mets homage reading "Meth."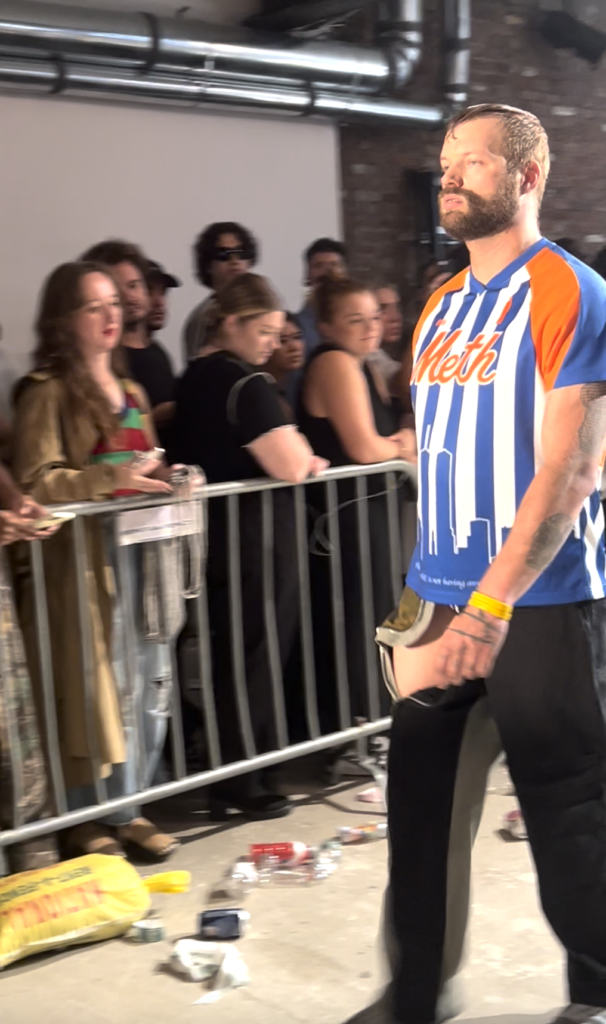 Gone are Barragán's signature Latin models wearing loose-fitting leather trousers (for now). They have been replaced with Barragán's shade of America, a hellish drug den inhabited those circling corporate. Isn't this sexy?
It begs the question of why a masked child walked in the collection's finale reprisal, replacing Barragán's finale bow? Maybe it's a one-off experimental presentation. The real test will come in the preceding months, in discovering which retailers stock corporate luxury.
Parsons MFA
Two days later, in celebration at Spring Studios, Parsons MFA designers provided a mirror of New York. Mandarin monograms graced over nude shear from Zhiqing Zhang's rebellious collection, while a blue pleated gown emerged from Chung Meng Ling. Sarah Hawes sent an attempt for gay visibility down the runway with two tattooed male models holding hands in dark blue rayon coats and trousers while holding up a blank billboard sign — which created a performative display of activism, or worse, an idea created moments before hitting the runway. Hawes also made her designs accessible to potential buyers by casting Parsons Professor Hazel Clark in a white two-piece. The first and only, out of previously mentioned brands, to feature a middle-aged female model.
Marlene Hasses accurately depicts body size with a denim piece, while a brown balloon gown from Lui Lui reaffirms gender stereotypes.
Parsons' last designer symbolized one of fashion's long-lasting taboos: financial inequality. Japanese designer Asato Kitamura presented art pieces, not couture gowns, with models carrying lifeless corpse puppets. One creation, a white headpiece and gold vinyl dress, donned a Black female model, who appeared to be tied together. In a strange entanglement, even if it wasn't Kitamura's initial thought process, his creation accurately expresses New York outside of Spring Studios.
Outside of Spring Studios and the fashion world, New York reaps inequality that prohibits many New Yorkers from having financial stability. Inside fashion, inequality remains visible in those present and those admitted to Fashion Week only to wait behind black velvet ropes. It's illustrated by which designers get a show date on New York's official Fashion Week calendar.
"There needs to be a few more avenues, whether that's funding options or ways people have needs addressed," said Connor McKnight, a Parsons alum and young independent designer, in a recent feature for Women's Wear Daily. McKnight was forced to cancel his runway presentation due to a lack of funding.
It's almost a befitting summary for New York Fashion Week. Taboo subjects were brought to the runway, under a possible subjection of 1990s house soundtrack and forgotten for pre-pandemic luxury.